Welcome to National Geographic Learning's online self-learner English language program.
myTimeENGLISH is a complete, four-skills, easy-to-use General English program that empowers learners to achieve their personal language goals on their own and at their own pace.
An easy-to-use interface enhanced by:
An adaptive placement test, which places students into the correct level of content to begin their English learning program
180 videos that bring the language to life, engage learners, and practice listening comprehension skills
Over 200 animated grammar presentations that teach grammar in real contexts to support and motivate self-directed learners
400+ speech recognition activities, which provide automatic feedback to the user
At the end of each lesson, unit, and level, learners receive a summary page that helps them focus on their personal language needs at their own pace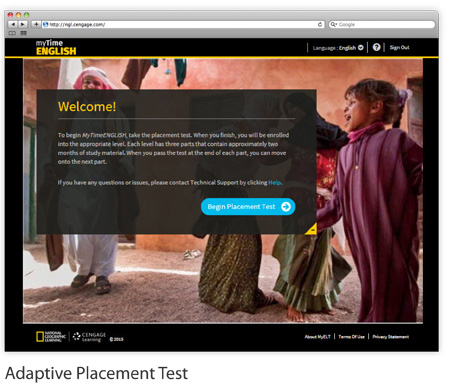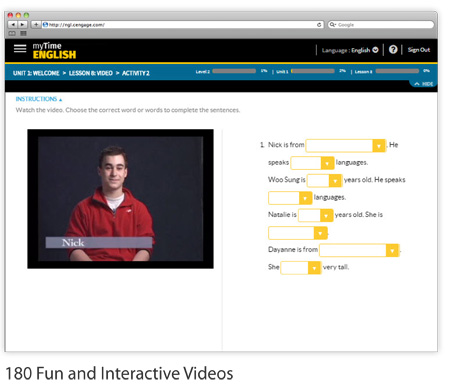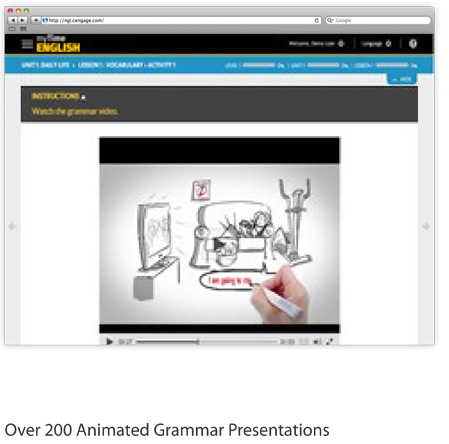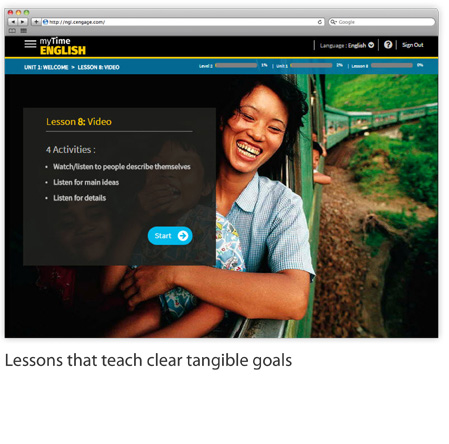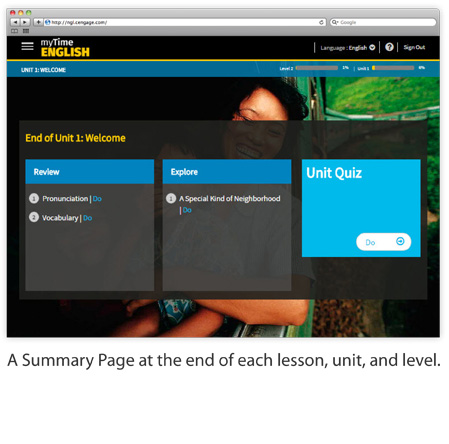 User Guides and Tutorials
Online Classroom Student Tutorials
Online Classroom Instructor Tutorials
See what people are saying about myTimeEnglish
The user interface is cool. The whole program is easy to use. Audio, video and picture supplements are very effective. It's a nice course with rich learning activities and resources.
The physical feautures are interesting and modern and I think they really interest and suit the learners of any ages. This program is very attractive and helpful.
User-friendly. Good examples. Very good look and feel.
I really like the conversation because I can record my own voice. It's like there is someone talking with me at the real time. Fantastic program!
It's certainly the best planned and designed online program I've seen, and I've been working with server-based and online programs for about ten years now.
I think my students will be impressed with online activities. Easy to use, and the progress checking will encourage them to go on. I really really like the animations and the videos and I think they are very interactive for learners.